O impacto da nanotecnologia na saúde: Uma revisão de estudos e produtos recentes
Palavras-chave:
human health, tumor cells;, drug delivery, nanostructures, animal health
Resumo
Muitas pessoas sofrem de doenças e lesões e muitas delas morrem devido a um diagnóstico tardio e/ou a um tratamento ineficaz. Muitas dessas doenças afetam seres humanos e animais. Além disso, os animais podem ser vetores para os seres humanos. Nesta perspectiva, são necessários trabalhos que integrem humanos, animais e ecossistemas, surgindo, assim, a One Health. Junto a isso, a nanotecnologia é uma ótima alternativa para melhorar os cuidados com a saúde em razão das suas propriedades revolucionárias e complexas. Como, porém, os nanomateriais podem ser capazes de trabalhar com ou contra células, tecidos, medicamentos e dispositivos médicos? Já existem vários produtos no mercado, mas há muitos desafios a enfrentar e todo um novo mundo a descobrir. Neste artigo são apresentadas as aplicações das nanoestruturas no diagnóstico, na terapia, nos dispositivos médicos, na engenharia de tecidos e implantes, na saúde humana e animal e numa perspectiva futura.
Referências
Raphael D, Bryant T, Rioux M. Staying alive: Critical perspectives on health, illness, and health care. Third edition. Canadian Scholars, editor. 2019.
Sleeman KE, de Brito M, Etkind S, Nkhoma K, Guo P, Higginson IJ, et al. The escalating global burden of serious health-related suffering: projections to 2060 by world regions, age groups, and health conditions. Lancet Glob Health. 2019;7(7).
Abuduxike G, Aljunid SM. Development of health biotechnology in developing countries: Can private-sector players be the prime movers? Vol. 30, Biotechnology Advances. 2012.
Stenberg K, Hanssen O, Bertram M, Brindley C, Meshreky A, Barkley S, et al. Guide posts for investment in primary health care and projected resource needs in 67 low-income and middle-income countries: a modelling study. Lancet Glob Health. 2019;7(11).
Destoumieux-Garzón D, Mavingui P, Boetsch G, Boissier J, Darriet F, Duboz P, et al. The one health concept: 10 years old and a long road ahead. Vol. 5, Frontiers in Veterinary Science. 2018.
Moro M. Integrating the Veterinarian Scientist to the One Health Concept. In 2019.
Agbo CC, Mahmoud QH, Eklund JM. Blockchain technology in healthcare: A systematic review. Vol. 7, Healthcare (Switzerland). 2019.
Mitchell M, Kan L. Digital Technology and the Future of Health Systems. Vol. 5, Health Systems and Reform. 2019.
Greenhalgh T, Koh GCH, Car J. Covid-19: a remote assessment in primary care. Br Med J [Internet]. 2020;368:m1182. Available from: https://www.bmj.com/content/bmj/368/bmj.m1182.full.pdf
Sarmistha Sarkar, Shyamal Chandra Sarkar. Application of Nanotechnology in Medicine. In: Fedorov S, editor. Research Trends in Medical Sciences. AkiNik Publications New Delhi; 2019. p. 49.
Liu R, Yao T, Liu Y, Yu S, Ren L, Hong Y, et al. Temperature-sensitive polymeric nanogels encapsulating with β-cyclodextrin and ICG complex for high-resolution deep-tissue ultrasound-switchable fluorescence imaging. Nano Res. 2020;13(4).
Saji VS, Choe HC, Yeung KWK. Nanotechnology in biomedical applications: A review. International Journal of Nano and Biomaterials. 2010;3(2).
Gmeiner WH, Ghosh S. Nanotechnology for cancer treatment. Nanotechnol Rev. 2014;3(2).
Zhang X, Zhang C, Cheng M, Zhang Y, Wang W, Yuan Z. Dual pH-responsive "charge-reversal like" gold nanoparticles to enhance tumor retention for chemo-radiotherapy. Nano Res. 2019;12(11).
Zelle SG, Nyarko KM, Bosu WK, Aikins M, Niëns LM, Lauer JA, et al. Costs, effects and cost-effectiveness of breast cancer control in Ghana. Tropical Medicine and International Health. 2012;17(8).
Chen Y, Jungsuwadee P, Vore M, Butterfield DA, St. Clair DK. Collateral damage in cancer chemotherapy: Oxidative stress in nontargeted tissues. Vol. 7, Molecular Interventions. 2007.
Yan H, Xue Z, Xie J, Dong Y, Ma Z, Sun X, et al. Toxicity of carbon nanotubes as anti-tumor drug carriers. Vol. 14, International Journal of Nanomedicine. 2019.
Whitaker K. Earlier diagnosis: the importance of cancer symptoms. Vol. 21, The Lancet Oncology. 2020.
Misra C, Gaur M, Gupta LN. Nanotechnology: Emerging Platform for Drug Based Delivery System in Cancer. Journal of Drug Delivery and Therapeutics. 2019;9(4).
Shi J, Kantoff PW, Wooster R, Farokhzad OC. Cancer nanomedicine: Progress, challenges and opportunities. Vol. 17, Nature Reviews Cancer. 2017.
Gao Y, Xie J, Chen H, Gu S, Zhao R, Shao J, et al. Nanotechnology-based intelligent drug design for cancer metastasis treatment. Vol. 32, Biotechnology Advances. 2014.
Garcia E, Shinde R, Martinez S, Kaushik A, Chand HS, Nair M, et al. Cell-Line-Based Studies of Nanotechnology Drug-Delivery Systems: A Brief Review. In: Nanocarriers for Drug Delivery: Nanoscience and Nanotechnology in Drug Delivery. 2018.
Sanz del Olmo N, Bajo AM, Ionov M, García-Gallego S, Bryszewska M, Gómez R, et al. Cyclopentadienyl ruthenium(II) carbosilane metallodendrimers as a promising treatment against advanced prostate cancer. Eur J Med Chem. 2020;199.
Aslam H, Shukrullah S, Naz MY, Fatima H, Hussain H, Ullah S, et al. Current and future perspectives of multifunctional magnetic nanoparticles based controlled drug delivery systems. Vol. 67, Journal of Drug Delivery Science and Technology. 2022.
Stanicki D, Vangijzegem T, Ternad I, Laurent S. An update on the applications and characteristics of magnetic iron oxide nanoparticles for drug delivery. Vol. 19, Expert Opinion on Drug Delivery. 2022.
Rego GN de A, Mamani JB, Souza TKF, Nucci MP, Silva HR da, Gamarra LF. Therapeutic evaluation of magnetic hyperthermia using Fe3O4-aminosilane-coated iron oxide nanoparticles in glioblastoma animal model. Einstein (Sao Paulo). 2019;17(4).
Parmin NA, Hashim U, Gopinath SCB, Uda MNA. Biosensor recognizes the receptor molecules. In: Nanobiosensors for Biomolecular Targeting. 2018.
Fiorani A, Merino JP, Zanut A, Criado A, Valenti G, Prato M, et al. Advanced carbon nanomaterials for electrochemiluminescent biosensor applications. Vol. 16, Current Opinion in Electrochemistry. 2019.
Saeedi M, Eslamifar M, Khezri K, Dizaj SM. Applications of nanotechnology in drug delivery to the central nervous system. Vol. 111, Biomedicine and Pharmacotherapy. 2019.
NEAL S. System and methods for collective nanorobotics for medical applications [Internet]. US: SOLOMON RES LLC; 2008. Available from: https://lens.org/178-758-417-054-966
Saxena SK, Nyodu R, Kumar S, Maurya VK. Current advances in nanotechnology and medicine. In: NanoBioMedicine. 2020.
Iannazzo D, Pistone A, Celesti C, Triolo C, Patané S, Giofré S V., et al. A smart nanovector for cancer targeted drug delivery based on graphene quantum dots. Nanomaterials. 2019;9(2).
Varan G, Benito JM, Mellet CO, Bilensoy E. Development of polycationic amphiphilic cyclodextrin nanoparticles for anticancer drug delivery. Beilstein Journal of Nanotechnology. 2017;8(1).
Huang K, Ma H, Liu J, Huo S, Kumar A, Wei T, et al. Size-dependent localization and penetration of ultrasmall gold nanoparticles in cancer cells, multicellular spheroids, and tumors in vivo. ACS Nano. 2012;6(5).
Banerjee A, Qi J, Gogoi R, Wong J, Mitragotri S. Role of nanoparticle size, shape and surface chemistry in oral drug delivery. Journal of Controlled Release. 2016;238.
Rabanel JM, Perrotte M, Ramassamy C. Nanotechnology at the rescue of neurodegenerative diseases: Tools for early diagnostic. In: Nanobiotechnology in Neurodegenerative Diseases. 2019.
Loo Say Chye Joachim, Baek Jongsuep, Tan Chuan Hao. Lipid-Polymer Hybrid Nanoparticles. WO2019135715A1, 2019.
CLARK KR. Lipid nanoparticle compositions and methods as carriers of cannabinoids in standardized precision-metered dosage forms [Internet]. US: NANOSPHERE HEALTH SCIENCES LLC; 2020. Available from: https://lens.org/082-170-165-089-055
MOHAMED YH, FEKRY SEDM, MOHAMED ALIHS, SALEH AM, ABDULLAH AMW, FAWZY EM, et al. Synthesis of black eggplant (Solanum melongena) skin antioxidant nanoparticles [Internet]. US: UNIV KING SAUD; 2019. Available from: https://lens.org/115-070-935-312-91X
MORCH YRR, EINAR S, KJERSTI F, GILLER FK, STENSTAD PER, HEIDI J, et al. Paca and cabazitaxel for anti-cancer treatment [Internet]. US: Sintef TTO AS; 2019. Available from: https://lens.org/082-349-920-489-598
KRYSZTOF S, KRZYSZTOF Z, JOANNA S. Multicompartment system of nanocapsule-in-nanocapsule type, for encapsulation of a lipophilic and hydrophilic compound, and the related production method [Internet]. WO: Smela Krysztof; 2020. Available from: https://lens.org/116-488-156-505-581
CHOI WONIL, L LEEJINSI. Injectable thermosponge nanoparticle-based hydrogel and use thereof [Internet]. WO: Korea Inst Ceramic Eng & Tech; 2019. Available from: https://lens.org/189-233-203-088-842
MARK M, KYLE PD, DAVID B, ADAM D, REED W, ANTHONY L, et al. Nye guldbaserede nanokrystaller til medicinske behandlinger og elektrokemiske processer til fremstilling deraf [Internet]. DK: Clene Nanomedicine INC; 2017. Available from: https://lens.org/116-064-387-555-632
CHIANG LIJIA, YOUZHI LI, KEYUR G, XIAOSHU DAI. Biodegradable and clinically-compatible nanoparticles as drug delivery carriers [Internet]. US: 1 globe Health Inst LLC; 2016. Available from: https://lens.org/061-952-340-508-486
LAURENT L, AGNES P, LAURENCE P, LAURENCE M. Metallic nanoparticles, preparation and uses thereof [Internet]. US: Nanobiotix; 2017. Available from: https://lens.org/153-509-176-666-86X
Fernández T, Martínez-Serrano A, Cussó L, Desco M, Ramos-Gómez M. Functionalization and Characterization of Magnetic Nanoparticles for the Detection of Ferritin Accumulation in Alzheimer's Disease. ACS Chem Neurosci. 2018;9(5).
Moody AS, Payne TD, Barth BA, Sharma B. Surface-enhanced spatially-offset Raman spectroscopy (SESORS) for detection of neurochemicals through the skull at physiologically relevant concentrations. Analyst. 2020;145(5).
Torres-Ortega PV, Martínez-Valbuena I, Martí-Andrés G, Hanafy AS, Luquin MR, Garbayo E, et al. Nanobiotechnology in parkinson's disease. In: Nanobiotechnology in Neurodegenerative Diseases. 2019.
Barbalinardo M, Antosova A, Gambucci M, Bednarikova Z, Albonetti C, Valle F, et al. Effect of metallic nanoparticles on amyloid fibrils and their influence to neural cell toxicity. Nano Res. 2020;13(4).
Yang SY, Chiu MJ, Lin CH, Horng HE, Yang CC, Chieh JJ, et al. Development of an ultra-high sensitive immunoassay with plasma biomarker for differentiating Parkinson disease dementia from Parkinson disease using antibody functionalized magnetic nanoparticles. J Nanobiotechnology. 2016;14(1).
Chen T, Li C, Li Y, Yi X, Lee SMY, Zheng Y. Oral delivery of a nanocrystal formulation of schisantherin a with improved bioavailability and brain delivery for the treatment of Parkinson's disease. Mol Pharm. 2016;13(11).
Kratz JD, Chaddha A, Bhattacharjee S, Goonewardena SN. Atherosclerosis and Nanotechnology: Diagnostic and Therapeutic Applications. Cardiovasc Drugs Ther. 2016;30(1).
Fredman G, Kamaly N, Spolitu S, Milton J, Ghorpade D, Chiasson R, et al. Targeted nanoparticles containing the proresolving peptide Ac2-26 protect against advanced atherosclerosis in hypercholesterolemic mice. Sci Transl Med. 2015;7(275).
Nelson BC, Minelli C, Doak SH, Roesslein M. Emerging Standards and Analytical Science for Nanoenabled Medical Products. Vol. 13, Annual Review of Analytical Chemistry. 2020.
Thairu L, Wirth M, Lunze K. Innovative newborn health technology for resource-limited environments. Vol. 18, Tropical Medicine and International Health. 2013.
Ramasamy M, Lee J. Recent nanotechnology approaches for prevention and treatment of biofilm-associated infections on medical devices. Biomed Res Int. 2016;2016.
Bennett MG, Naranja RJ. Getting nano tattoos right-A checklist of legal and ethical hurdles for an emerging nanomedical technology. Nanomedicine. 2013;9(6).
Dai M, Wu Z, Qi S, Huo C, Zhang Q, Zhang X, et al. Implementation of PPI with nano amorphous oxide semiconductor devices for medical applications. Int J Nanomedicine. 2020;15.
Yasui K, Tuziuti T, Kanematsu W. Mysteries of bulk nanobubbles (ultrafine bubbles); stability and radical formation. Vol. 48, Ultrasonics Sonochemistry. 2018.
Noguchi T, Ebina K, Hirao M, Morimoto T, Koizumi K, Kitaguchi K, et al. Oxygen ultra-fine bubbles water administration prevents bone loss of glucocorticoid-induced osteoporosis in mice by suppressing osteoclast differentiation. Osteoporosis International. 2017;28(3).
Peyman SA, McLaughlan JR, Abou-Saleh RH, Marston G, Johnson BRG, Freear S, et al. On-chip preparation of nanoscale contrast agents towards high-resolution ultrasound imaging. Lab Chip. 2016;16(4).
Aljabali AAA, Al Zoubi MS, Al-Batanyeh KM, Al-Radaideh A, Obeid MA, Al Sharabi A, et al. Gold-coated plant virus as computed tomography imaging contrast agent. Beilstein Journal of Nanotechnology. 2019;10.
JONATHAN I, LAURA I. Heating device using exothermic chemical reaction [Internet]. US: ISSEROW JONATHAN; 2020. Available from: https://lens.org/069-355-676-600-804
SAULIUS J, ELENA I. A synthetic biocidal surface comprising an array of nanospikes [Internet]. EP: Univ Swinburne; 2016. Available from: https://lens.org/044-968-605-778-263
P GJC, SHRIPAL G, ALEXANDER S, CHRISTIAN V. Nanoelectronic glucose sensors [Internet]. US: Nanomix Inc; 2007. Available from: https://lens.org/129-880-950-716-966
S BM, ULRICH W, C MRJ, G PS, R ABURN, MOHAN P. Systems methods and apparatus for multichannel imaging of fluorescent sources in real-time [Internet]. KR: Memorial Sloan Kettering Cancer Center; 2016. Available from: https://lens.org/047-731-748-891-689
A BW. TAGGED SURGICAL INSTRUMENTS AND METHODS THEREFOR [Internet]. US: COVIDIEN LP; 2017. Available from: https://lens.org/081-698-952-499-159
Maheshwari N, Tekade M, Chourasiya Y, Sharma MC, Deb PK, Tekade RK. Nanotechnology in Tissue Engineering. In: Biomaterials and Bionanotechnology. 2019.
Christy PN, Basha SK, Kumari VS, Bashir AKH, Maaza M, Kaviyarasu K, et al. Biopolymeric nanocomposite scaffolds for bone tissue engineering applications – A review. Vol. 55, Journal of Drug Delivery Science and Technology. 2020.
Popat KC, Leoni L, Grimes CA, Desai TA. Influence of engineered titania nanotubular surfaces on bone cells. Biomaterials. 2007;28(21).
Nishimura I, Huang Y, Butz F, Ogawa T, Lin A, Wang CJ. Discrete deposition of hydroxyapatite nanoparticles on a titanium implant with predisposing substrate microtopography accelerated osseointegration. Nanotechnology. 2007;18(24).
Karagkiozaki V, Logothetidis S, Kalfagiannis N, Lousinian S, Giannoglou G. Atomic force microscopy probing platelet activation behavior on titanium nitride nanocoatings for biomedical applications. Nanomedicine. 2009;5(1).
Aversa R, Petrescu RV V., Apicella A, Petrescu FIT. Nano-diamond hybrid materials for structural biomedical application. Am J Biochem Biotechnol. 2017;13(1).
Tavassoli H, Javadpour J, Taheri M, Mehrjou M, Koushki N, Arianpour F, et al. Incorporation of Nanoalumina Improves Mechanical Properties and Osteogenesis of Hydroxyapatite Bioceramics. ACS Biomater Sci Eng. 2018;4(4).
Funda G, Taschieri S, Bruno GA, Grecchi E, Paolo S, Girolamo D, et al. Nanotechnology scaffolds for alveolar bone regeneration. Vol. 13, Materials. 2020.
Naahidi S, Jafari M, Logan M, Wang Y, Yuan Y, Bae H, et al. Biocompatibility of hydrogel-based scaffolds for tissue engineering applications. Vol. 35, Biotechnology Advances. 2017.
PATTERSON ROY, JOHN FC, S SM, SCOTT CC, SATISH S, RYAN C. Substrate loading in microlithography [Internet]. US: Molecular imprints Inc; 2019. Available from: https://lens.org/089-226-904-113-886
VIKRAMJIT S, KANG LUO, NEVIN MM, SHUQIANG Y, FRANK XUY. Microlithographic fabrication of structures [Internet]. US: Molecular Imprints Inc; 2020. Available from: https://lens.org/089-176-028-852-706
ASHWIN G, CHRISTOPHER T, G KD, W RP. Method for organizing individual molecules on a patterned substrate and structures Assembled Thereby [Internet]. US: California Inst OF Techn; 2021. Available from: https://lens.org/060-203-744-379-145
JOHN O, KASPARS K, BINGZHAO XIA. Methods of Generating Microparticles and Porous Hydrogels Using Microfluidics [Internet]. US: Univ Wyoming; 2017. Available from: https://lens.org/157-862-019-769-673
Aimin Tang, Sra. Li, Chengang, Zhao Yao, Liu Wang Yu. Aplicação para três tipos de papel de impressão/resina fotopolimerizada e seus métodos de preparação [Internet]. CN: South China University of Technology. 2018. Available from: https://lens.org/022-618-271-594-123
A RJ, J MRK, KYUN KS, SEUNG LEEMIN, VINCENT HD, WILSON RAYZ. Implantable and bioresorbable sensors [Internet]. US: Univ Illinois; 2017. Available from: https://lens.org/035-919-609-372-44X
T BJ, R KK, HIDETOMI T, P VJ. Multilayer device for tissue engineering [Internet]. US: Gen Hospital Corp; 2008. Available from: https://lens.org/152-491-932-359-840
DEOK-HO KIM, MICHAEL L, CHARLES M, KSHITIZ G, HYOK YOO, ALEX J. Systems and method for engineering muscle tissue [Internet]. US: Univ Washington Through its Center for Commercialization; 2018. Available from: https://lens.org/041-405-238-975-864
YOULANG Z, JINBO T, LUZHONG Z. Multifunctional medical suture and preparation method thereof [Internet]. CN: Affiliated Hospital OF Nantong Univ; 2019. Available from: https://lens.org/146-577-784-473-94X
YOULANG Z, JINBO T, LUZHONG Z. Multifunctional medical suture and preparation method thereof [Internet]. CN: Affiliated Hospital of Nantong Univ; 2019. Available from: https://lens.org/146-577-784-473-94X
Torre E, Giasafaki D, Steriotis T, Cassinelli C, Morra M, Fiorilli S, et al. Silver decorated mesoporous carbons for the treatment of acute and chronic wounds, in a tissue regeneration context. Int J Nanomedicine. 2019;14.
JUQIANG LIN, YAMIN LIN, N YUYU, SIQI GAO, MENGMENG Z. SERS detection method based on adsorption of protein by hydroxyapatite nanoparticles [Internet]. CN: UNIV FUJIAN; 2020. Available from: https://lens.org/157-225-047-042-867
Yang H, Xu W, Liang X, Yang Y, Zhou Y. Carbon nanotubes in electrochemical, colorimetric, and fluorimetric immunosensors and immunoassays: a review. Vol. 187, Microchimica Acta. 2020.
Huang K, Ou Q, Xie Y, Chen X, Fang Y, Huang C, et al. Halloysite Nanotube Based Scaffold for Enhanced Bone Regeneration. ACS Biomater Sci Eng. 2019;5(8).
Tang JD, Mura C, Lampe KJ. Stimuli-Responsive, Pentapeptide, Nanofiber Hydrogel for Tissue Engineering. J Am Chem Soc. 2019;141(12).
Shi J, Votruba AR, Farokhzad OC, Langer R. Nanotechnology in drug delivery and tissue engineering: From discovery to applications. Vol. 10, Nano Letters. 2010.
Lu HT, Lu TW, Chen CH, Mi FL. Development of genipin-crosslinked and fucoidan-adsorbed nano-hydroxyapatite/hydroxypropyl chitosan composite scaffolds for bone tissue engineering. Int J Biol Macromol. 2019;128.
Mistry AS, Mikos AG. Tissue engineering strategies for bone regeneration. Vol. 94, Advances in Biochemical Engineering/Biotechnology. 2005.
Pina S, Oliveira JM, Reis RL. Natural-based nanocomposites for bone tissue engineering and regenerative medicine: A review. Vol. 27, Advanced Materials. 2015.
Yao Q, Fuglsby KE, Zheng X, Sun H. Nanoclay-functionalized 3D nanofibrous scaffolds promote bone regeneration. J Mater Chem B. 2020;8(17).
García-Couce J, Almirall A, Fuentes G, Kaijzel E, Chan A, Cruz LJ. Targeting Polymeric Nanobiomaterials as a Platform for Cartilage Tissue Engineering. Curr Pharm Des. 2019;25(17).
Nilforoushzadeh MA, Zare M, Zarrintaj P, Alizadeh E, Taghiabadi E, Heidari-Kharaji M, et al. Engineering the niche for hair regeneration – A critical review. Vol. 15, Nanomedicine: Nanotechnology, Biology, and Medicine. 2019.
Calderon-Nieva D, Goonewardene KB, Gomis S, Foldvari M. Veterinary vaccine nanotechnology: pulmonary and nasal delivery in livestock animals. Vol. 7, Drug Delivery and Translational Research. 2017.
FAO. One Health: Food and Agriculture Organization of the United Nations Strategic Action Plan. Web report. 2011.
Scott NR. Nanotechnology and animal health. Vol. 24, OIE Revue Scientifique et Technique. 2005.
Meena NS, Sahni YP, Singh RP. Applications of nanotechnology in veterinary therapeutics. ~ 167 ~ Journal of Entomology and Zoology Studies. 2018;6(2).
El-Sayed A, Kamel M. Advanced applications of nanotechnology in veterinary medicine. Environmental Science and Pollution Research. 2020;27(16).
Estoepangestie ATS. Public Awareness in ensuring Animal Originated Food Safety : A Review on "One Health" Approach in Veterinary Medicine. KnE Life Sciences. 2017;3(6).
Muhanna N, Mepham A, Mohamadi RM, Chan H, Khan T, Akens M, et al. Nanoparticle-based sorting of circulating tumor cells by epithelial antigen expression during disease progression in an animal model. Nanomedicine. 2015;11(7).
SHUYU XIE, DONGMEI C, YUZHU SUN, ZONGHUI Y, YUANHU PAN, I QUWE. Oxfendazole nanosuspension for veterinary use and preparation method thereof [Internet]. CN: Univ Huazhong Agricultural; 2020. Available from: https://lens.org/066-434-285-908-015
SHUANG XUE, AIRONG LI, XIAOLING GUO, SHUNQI TAO, SHUQIANG Z, QUANCHENG LI, et al. Nanometer animal husbandry and veterinary medicine disinfectant and preparation method thereof [Internet]. CN: Xue Shuang; 2019. Available from: https://lens.org/044-520-109-123-852
JULI U. Snail Sirna-Loaded Mesoporous Silica Nanoparticles [Internet]. WO: Univ Loma Linda; 2020. Available from: https://lens.org/066-233-653-447-427
XIANHUI H, YANGYANG QIU, YUNYUN F, YAHONG LIU, JIAN SUN, XIAOPING L. Nanometer self-microemulsion, veterinary medicine nanometer self-microemulsion, and preparation method and application thereof [Internet]. CN: Univ South China Agricult; 2019. Available from: https://lens.org/000-686-114-851-989
J GR, VARUN D, S BB, JORDI T. Compositions and methods for treating and preventing porcine reproductive and respiratory syndrome [Internet]. US: Ohio State Innovation Foundation; 2016. Available from: https://lens.org/151-682-655-340-708
H VONAU, C FO, S LR, TOBIAS J, ASHLEY ME, LIANGFANG Z, et al. Vaccine nanotechnology [Internet]. US: Massachusetts Inst Technology; 2016. Available from: https://lens.org/146-182-471-824-01X
R BJRJ, M SD, SUSAN C. Emulsion adjuvant for intramuscular, intradermal and subcutaneous administration [Internet]. WO: Univ Michigan Regents; 2017. Available from: https://lens.org/004-735-736-053-408
STEPHAN H. Methods, products, and systems relating to making, providing, and using nanocrystalline (NC) products comprising nanocrystalline cellulose (NCC), nanocrystalline (NC) polymers and/or nanocrystalline (NC) plastics or other nanocrystals of cellulose composites or structures, in combination with other materials [Internet]. CA: Heath Stephan; 2017. Available from: https://lens.org/004-994-572-390-876
S SM, SEUNGHYUN B, PAUL B. Sensors employing single-walled carbon nanotubes [Internet]. US: Strano Michael S; 2014. Available from: https://lens.org/036-567-247-321-652
Bai Y, Yao L, Wei T, Tian F, Jin DY, Chen L, et al. Presumed Asymptomatic Carrier Transmission of Covid-19. Vol. 323, JAMA – Journal of the American Medical Association. 2020.
El Zowalaty ME, Järhult JD. From Sars to Covid-19: A previously unknown SARS- related coronavirus (SARS-CoV-2) of pandemic potential infecting humans – Call for a One Health approach. One Health. 2020 Jun;9:100124.
Benelli G, Maggi F, Pavela R, Murugan K, Govindarajan M, Vaseeharan B, et al. Mosquito control with green nanopesticides: towards the One Health approach? A review of non-target effects. Environmental Science and Pollution Research. 2018;25(11).
Lombi E, Donner E, Dusinska M, Wickson F. A One Health approach to managing the applications and implications of nanotechnologies in agriculture. Vol. 14, Nature Nanotechnology. 2019.
von Roemeling C, Jiang W, Chan CK, Weissman IL, Kim BYS. Breaking Down the Barriers to Precision Cancer Nanomedicine. Vol. 35, Trends in Biotechnology. 2017.
Mankamna Kumari R, Goswami R, Nimesh S. Application of Nanotechnology in Diagnosis and Therapeutics. In: Green Energy and Technology. 2020.
Souto EB, Dias-Ferreira J, Shegokar R, Durazzo A, Santini A. Ethical issues in research and development of nanoparticles. In: Drug Delivery Aspects: Volume 4: Expectations and Realities of Multifunctional Drug Delivery Systems. 2020.
Caracciolo G, Vali H, Moore A, Mahmoudi M. Challenges in molecular diagnostic research in cancer nanotechnology. Nano Today. 2019;27.
Li Z, Shum HC. Nanotechnology and Microfluidics for Biosensing and Biophysical Property Assessment. In: Nanotechnology and Microfluidics. 2020.
Song W, Anselmo AC, Huang L. Nanotechnology intervention of the microbiome for cancer therapy. Vol. 14, Nature Nanotechnology. 2019.
Patil-Sen Y, Narain A, Asawa S, Tavarna T. Nanotechnology: The future for cancer treatment. In: Unravelling Cancer Signaling Pathways: A Multidisciplinary Approach. 2019.
De Freitas GBL, De Almeida DJ. Future prospected of engineered nanobiomaterials in human health care. In: Nanobiomaterial Engineering: Concepts and Their Applications in Biomedicine and Diagnostics. 2020.
Dinh T, Dau V, Tran CD, Nguyen TK, Phan HP, Nguyen NT, et al. Polyacrylonitrile-carbon Nanotube-polyacrylonitrile: A Versatile Robust Platform for Flexible Multifunctional Electronic Devices in Medical Applications. Macromol Mater Eng. 2019;304(6).
Yin Z, Dong Z, Cahay M, Pixley S, Haworth KJ, Rahimi M, et al. Carbon nanotube wire for use in precision medical devices. In: Nanotube Superfiber Materials: Science, Manufacturing, Commercialization. 2019.
Yadid M, Feiner R, Dvir T. Gold Nanoparticle-Integrated Scaffolds for Tissue Engineering and Regenerative Medicine. Nano Lett. 2019;19(4).
Lanza R, Langer R, Vacanti J. Principles of Tissue Engineering. Principles of Tissue Engineering. 2020.
Oroojalian F, Charbgoo F, Hashemi M, Amani A, Yazdian-Robati R, Mokhtarzadeh A, et al. Recent advances in nanotechnology-based drug delivery systems for the kidney. Vol. 321, Journal of Controlled Release. 2020.
Hill EK, Li J. Current and future prospects for nanotechnology in animal production. Vol. 8, Journal of Animal Science and Biotechnology. 2017.
Anadón A, Ares I, Martínez-Larrañaga MR, Martínez MA. Nutraceuticals Used as Antibacterial Alternatives in Animal Health and Disease. In: Nutraceuticals in Veterinary Medicine. 2019.
Gedda MR, Singh OP, Srivastava ON, Sundar S. Therapeutic leishmaniasis: Recent advancement and developments in nanomedicines. In: Nanotechnology in Modern Animal Biotechnology: Recent Trends and Future Perspectives. 2019.
Ingle AP, Gupta I, Jogee P, Rai M. Role of nanotechnology in the detection of mycotoxins: A smart approach. In: Nanomycotoxicology: Treating Mycotoxins in the Nano Way. 2019.
Thipe VC, Bloebaum P, Khoobchandani M, Karikachery AR, Katti KK, Katti K V. Green nanotechnology: Nanoformulations against toxigenic fungi to limit mycotoxin production. In: Nanomycotoxicology: Treating Mycotoxins in the Nano Way. 2019.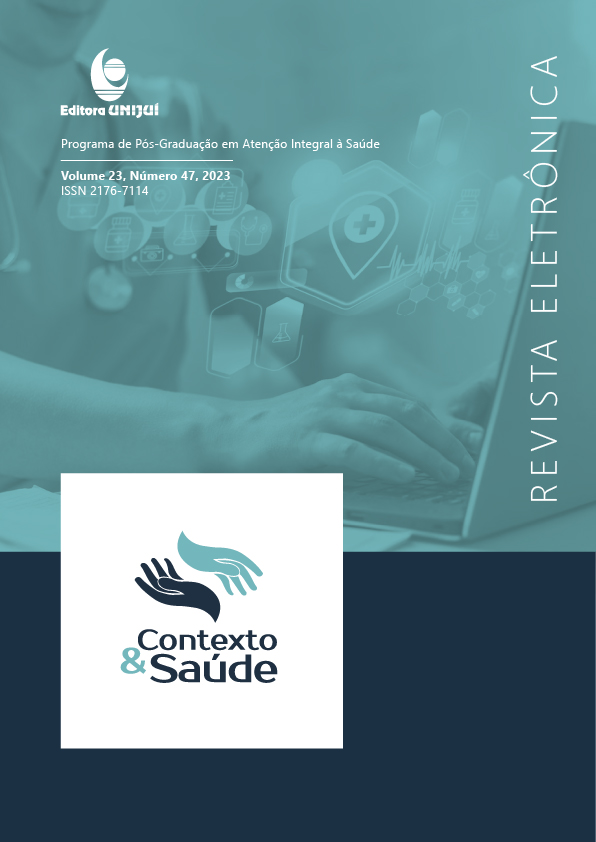 Downloads
Como Citar
Menezes de Souza, S., Silva, G. R. ., Fabrino, D. L., & Boggione Santos, I. J. (2023). O impacto da nanotecnologia na saúde: Uma revisão de estudos e produtos recentes. Revista Contexto & Saúde, 23(47), e12394. https://doi.org/10.21527/2176-7114.2023.47.12394
Licença
Copyright (c) 2023 Revista Contexto & Saúde
Este trabalho está licenciado sob uma licença
Creative Commons Attribution 4.0 International License
.
Autores que publicam na Revista Contexto & Saúde concordam com os seguintes termos:
a) A submissão de trabalho(s) científico(s) original(is) pelos autores, na qualidade de titulares do direito de autor do(s) texto(s) enviado(s) ao periódico, nos termos da Lei 9.610/98, implica na cessão de direitos autorais de publicação na Revista Contexto e Saúde do(s) artigo(s) aceitos para publicação à Universidade Regional do Noroeste do Estado do Rio Grande do Sul, autorizando-se, ainda, que o(s) trabalho(s) científico(s) aprovado(s) seja(m) divulgado(s) gratuitamente, sem qualquer tipo de ressarcimento a título de direitos autorais, por meio do site da revista e suas bases de dados de indexação e repositórios, para fins de leitura, impressão e/ou download do arquivo do texto, a partir da data de aceitação para fins de publicação. Isto significa que, ao procederem a submissão do(s) artigo(s) à Revista Contexto e Saúde e, por conseguinte, a cessão gratuita dos direitos autorais relacionados ao trabalho científico enviado, os autores têm plena ciência de que não serão remunerados pela publicação do(s) artigo(s) no periódico.
b). Autores mantém os direitos autorais e concedem à revista o direito de primeira publicação, com o trabalho simultaneamente licenciado sob a Licença Creative Commons Attribution que permite o compartilhamento do trabalho com reconhecimento da autoria e publicação inicial nesta revista.
c). Autores têm autorização para assumir contratos adicionais separadamente, para distribuição não-exclusiva da versão do trabalho publicada nesta revista (ex.: publicar em repositório institucional ou como capítulo de livro), com reconhecimento de autoria e publicação inicial nesta revista.
d. Autores têm permissão e são estimulados a publicar e distribuir seu trabalho online (ex.: em repositórios institucionais ou na sua página pessoal) a qualquer ponto antes ou durante o processo editorial, já que isso pode gerar alterações produtivas, bem como aumentar o impacto e a citação do trabalho publicado (Veja O Efeito do Acesso Livre).