THE PHYSIOLOGY EFFECTS OF A FINNISH SAUNA ON AEROBIC EXERCISE IN COLLEGE-AGED INDIVIDUALS
Palavras-chave:
Sauna, aerobic exercise, blood pressure, heart rate, Rating of Perceived Exertion
Resumo
Sauna baths acutely increases vasodilation, heart rate (HR) and muscle relaxation; therefore sessions of sauna have been tested as a therapeutic treatment for cardiovascular diseases and psychological diseases. When combined with exercise, sauna baths have been performed to accelerate exercise recovery, with the sauna being done post workout the majority of times. The aim of this study was to determine the effects of the sauna used prior to a bout of moderate intensity aerobic exercise. Eight volunteer performed a 20-minute treadmill aerobic exercise (running) 70% of maximal VO2 with and without a visit to the sauna. Systolic and diastolic blood pressure (BP), HR, and Rate of Perceived Exertion (RPE) were recorded before, halfway at 10 minutes, and after the aerobic exercise. Systolic BP, assessed before exercise, was not different when subjects performed prior sauna (124.8 ± 10.8 vs. 125± 11 mm/Hg no sauna and sauna, respectively). However, diastolic BP was lower in no-sauna condition vs. sauna condition while HR and RPE (73± 5 vs 80± 4.5 mm/Hg BP, 90±13 vs. 101±11 beats/min and 6 vs. 7 RPE no sauna and sauna, respectively). When the comparison was made within the experimental condition exercise, sauna attenuated the increase in systolic and diastolic BP induced by exercise without affecting HR and RPE. Extreme high temperatures experienced in sauna modulate cardiovascular system responses by increasing HR and diastolic blood pressure. Moderate exercise increases systolic and diastolic BP, which might be attenuated when sauna is performed prior to exercise. A Sauna session might be used to modulate the response of exercise towards BP.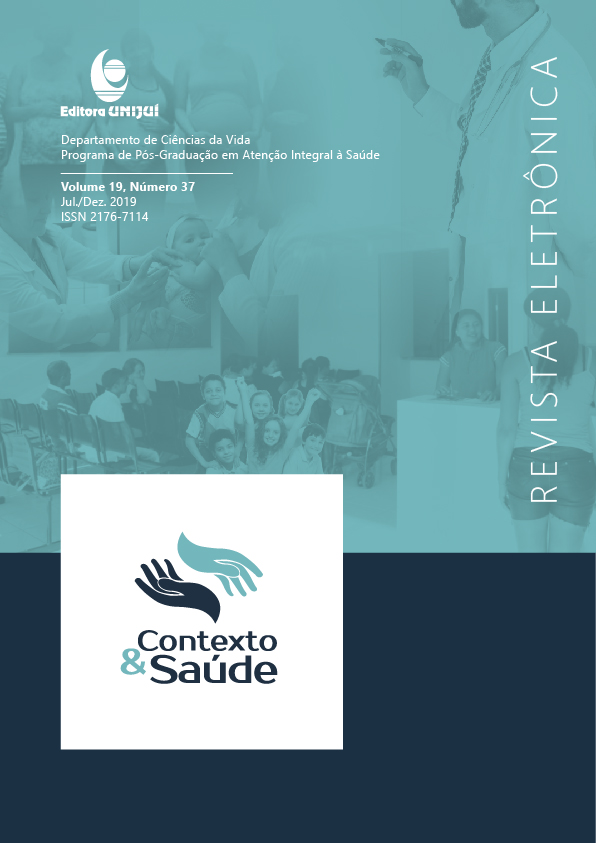 Downloads
Como Citar
Bogdanich, H., Kiger, J., & Santos, J. M. (2019). THE PHYSIOLOGY EFFECTS OF A FINNISH SAUNA ON AEROBIC EXERCISE IN COLLEGE-AGED INDIVIDUALS. Revista Contexto & Saúde, 19(37), 137–141. https://doi.org/10.21527/2176-7114.2019.37.137-141
Seção
Exercício Físico & Saúde
Licença
Autores que publicam nesta revista concordam com os seguintes termos:
a. Autores mantém os direitos autorais e concedem à revista o direito de primeira publicação, com o trabalho simultaneamente licenciado sob a Licença Creative Commons Attribution que permite o compartilhamento do trabalho com reconhecimento da autoria e publicação inicial nesta revista.
b. Autores têm autorização para assumir contratos adicionais separadamente, para distribuição não-exclusiva da versão do trabalho publicada nesta revista (ex.: publicar em repositório institucional ou como capítulo de livro), com reconhecimento de autoria e publicação inicial nesta revista.

c. Autores têm permissão e são estimulados a publicar e distribuir seu trabalho online (ex.: em repositórios institucionais ou na sua página pessoal) a qualquer ponto antes ou durante o processo editorial, já que isso pode gerar alterações produtivas, bem como aumentar o impacto e a citação do trabalho publicado (Veja O Efeito do Acesso Livre).